Chicken Crossing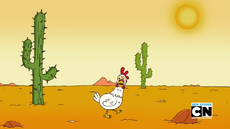 Chicken Crossing is a short that occurs after Misfortune Cookie.
Character Appearances
Major Characters
Minor Characters
Plot
The short starts off with a chicken trying to cross the road. Uncle Grandpa attempts to help the chicken by directing traffic, but to no avail. After several attempts, finally Uncle Grandpa is able to stop traffic by causing a huge accident by putting a balloon replica of himself in the middle of the road, and they were able to cross the road successfully. Uncle Grandpa asks the chicken where he is heading to, and the chicken tells him that he's going to the taco store, which was unfortunately on the side he was just on previously, much to his dismay.
Gallery
Community content is available under
CC-BY-SA
unless otherwise noted.