New Experiences with Beary Nice and Hot Dog Person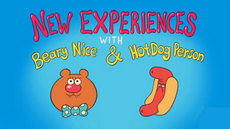 New Experiences with Beary Nice and Hot Dog Person is a short other segment to Uncle Grandpa. It features a bear named Beary Nice and a hot dog named Hot Dog Person who are always trying new things. Beary Nice is always liking his new things but Hot Dog Person is always getting painfully hurt and tortured by his new things.
The short that appears after the episodes, "Funny Face", "Uncle Grandpa Sitter", "The History of Wrestling", "Internet Troll", "The Package", "Pal.0","Uncle Grandpa Movie", "In The Clouds" and "Uncle Cupid".
Characters
Beary Nice - Beary Nice is a happy bear who loves new experiences and is always loving the things he does.
Hot Dog Person - Hot Dog Person is always afraid of doing new things and whenever he does that new thing, he always gets hurt. 
Plot
After "Funny Face" (Ice Cream)
Beary Nice and Hot Dog Person are eating ice cream as a new experience. Beary Nice is liking his ice cream cone a lot but when Hot Dog person is about to eat his, a bee lands on it and stings his tongue. Hot Dog Person is screaming and panicking in pain and Beary Nice doesn't care/notice. Then Hot Dog Person falls into the trash, still painfully hurt, while Beary Nice is happy about his ice cream, oblivious to Hot Dog Person's pain.
After "Uncle Grandpa Sitter" (Tree Climbing)
Beary Nice starts climbing a tree and Hot Dog Person thinks it may be dangerous. Hot Dog Person's tree is an electric tower with high voltage wires at the top and he starts climbing and is okay with it, unaware that he's not actually climbing a tree. Then, just when he is about to touch the wire, a hawk comes down and attacks him and feeds him to her babies and he is screaming in pain and Beary Nice doesn't notice, as usual.
After "The History of Wrestling" (Imaginations)
Hot Dog Person is sitting alone at the mall until Beary Nice hops out of a shopping bag, Beary talks about how wonderful it is to have an imagination and that makes Hot Dog Person concerned that he doesn't have an imagination. Then Beary tells Hot Dog Person to hop inside his imagination to see what it is like to have one, until Beary gets distracted with a sale on blue jeans and leaves Hot Dog Person in his imagination. Soon later Kevin E. Peepants takes over Beary's imagination and turns it into a nightmare leaving Hot Dog Person in danger, Beary comes back to find what's left of Hot Dog Person and asked him about the new blue jeans he bought.
After "Internet Troll" (Haircuts)
Beary suggests that he should get a haircut, Hot Dog Person explains to Beary that he only has hot dog skin, so Beary tells Hot Dog Person that he won't feel a thing, then they both proceed into the barber, Beary opens the door to say goodbye to the outside. Beary asks to get his haircut first and he wants to keep his sideburns, the barber shaves off a single hair, when Beary sees himself in the mirror he said he looks like movie star. When it's Hot Dog Person's turn Beary restates that Hot Dog Person won't feel a thing so the barber keeps shaving off hot dog skin until there's no left and Beary is covered in hot dog skin. Once outside Hot Dog Person is just a floating bun and he tells Beary that he doesn't feel a thing.
After "The Package" (Computers)
Beary says that he will use the computer to get a jar of cookies. Then he steps on the keyboard, launching a program. Hot Dog Person says that "Computers are amazing". Then Beary gets a cookie from the jar, then redirecting the computer to Normad Missile Defence Launch Network. Beary Does Not Know He Launched Normad, then typing in the Normad password. Hot Dog Person then gets scared. Beary states that the cookie is Delicious. he knows about the cookie crumbs, then choosing all targets. he then blows them off, But he typed in the launch codes! He then presses The "Y", "E", And "S" keys, destroying everything. Beary says he did not know computers can make is cookie toasty warm.
After "Pal.0" (Bath)
Beary Nice is taking a bath and tells Hot Dog Person to take one in a toilet. After getting in, the soap bar flies out of Beary's hands and hits the flush lever, flushing Hot Dog Person. Hot Dog Person ends up in the sewer where he is confronted and eaten by a crocodile who is then caught by a crocodile hunter and turned into a purse. A lady later buys the a purse and is surprised to find Hot Dog Person inside. Disgusted, She dumps Hot Dog Person into the ocean and he ends up in a water bottle factory. Later on, Beary calls for his waiter who brings him a water bottle with Hotdog Person inside, much to his surprise.
After "Uncle Grandpa Movie" (Socks)
Beary Nice and Hot Dog Person are sitting together in a room and Beary asks Hot Dog Person if he's excited to wear socks for the "beary" first time, and Hot Dog Person tells him he's not too sure about it. Beary tries to tell Hot Dog Person that socks are fun, he then flips over to the dresser and pulls out a pair of rainbow socks, Hot Dog Person thinks those socks are nice, Beary tells him they're his socks because they're small and fuzzy like him, he then tells Hot Dog Person his sock is over there and it's a giant sock. Beary happily puts on his socks and slides towards Hot Dog Person who has trouble getting in his sock, Beary sees Hot Dog Person in need of help and he helps him by pushing him into his sock, Hot Dog Person slides off while Beary continues to have fun. Hot Dog Person flies through the door and into another door and goes down the stairs, Beary is still having fun. Hot Dog Person flies out the building and into traffic, Beary is pretending to be an ice skater. Hot Dog Person falls out of the traffic and turns to normal on the grass until a dog chews him out and launches him into a fat dirty man's foot. The dirty man notices it isn't his sock and he takes it off and thinks it's disgusting, he rolls the sock up with Hot Dog Person in it and he clenches the sock in his hand and throws it away. Hot Dog Person then lands into a washing machine and proceeds to get washed as it cuts to Beary having fun. Hot Dog Person gets taken out of the washing machine and gets thrown into a dryer that is set to "1000 Suns" and it scorches Hot Dog Person. Back in the building, Beary thinks that socks are quite wonderful and asks Hot Dog Person what he thinks when he opens the door and he comments "no".
After "In The Clouds" (Gym)
Beary Nice and Hot Dog Person are at the front of Gym's Gym and sees that this is the first time for them to workout, Beary Nice wonders if Hot Dog Person is ready to get ripped, Hot Dog Person believe that getting ripped sounds painful. Beary Nice creepily tells him that he'll do what he does and he'll like it! Beary then goes by a yoga mat and begins to lift weights, Hot Dog Person hops by and Beary tells him that he's silly and that this is his workout zone and that his workout zone is over there, Hot Dog Person looks over and sees a very scary workout machine, the "Fully Automated Pain Ripper 5000". Beary tells Timmy to help out his friend, Timmy grabs Hot Dog Person and places him in the machine, straps him in and turns it on, the machine then begins to pull, twist, mutilate, and torture Hot Dog Person to get fully ripped as Beary calmly works out alone. Beary decides to stop working out as Hot Dog Person gets torture in more extreme ways wondering why this machine exists, and in the end of the workout, he gets ripped. Beary is in a sauna to relax after working out, Hot Dog Person hops in as Beary asks him how his first workout went and he replies with AWESOME!
After "Uncle Cupid" (Restaurant)
Beary Nice and Hot Dog Person are sitting together in a restaurant, Beary tells Hot Dog Person that he's excited to eat at a fancy French restaurant for the BEARY FIRST TIME! Hot Dog Person looks at the menu and doesn't understand any of it, Beary Nice tells him that he took French classes back in college and believes that he can order for both of them. The waiter arrives and Beary puts on his glasses and tells him "Je voudrais la plaque de jour, et pour lui, la chien-chaud personne special", the waiter tells Beary "Vous avez commande un excellent repas, Merci! Hot Dog Person wants to know what he ordered and he tells Hot Dog Person that he talks to much, the waiter comes back with a T-bone stake for Beary and the waiter serves Hot Dog Person himself. Hot Dog Person says that he can't eat this, he tries to eat himself and Beary goes to give him a hand and Hot Dog Person begins to eat himself. People notice Hot Dog Person and they all want the same thing, as Hot Dog Person is eating himself, everyone else is eating him as well. Beary finishes his meal and the waiter asks if he was satisfied, Beary thought it was magnificent and he asks Hot Dog Person how he liked his meal and he tells him that he might need a doggie bag.
Cameos in Uncle Grandpa Episodes
Trivia
Beary Nice and Hot Dog Person are constantly making brief cameos in the actual show, Uncle Grandpa.
NORMAD is Base on NORAD The North American Aerospace Command . They are a government organizations part of the Department Of Defense .
Gallery
Ice Cream
Short
Tree Climbing
Short
Imaginations
Haircuts
Computers
Bath Time
Community content is available under
CC-BY-SA
unless otherwise noted.