The Grampies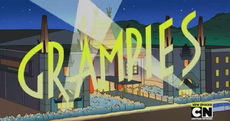 The Grampies is a short that occurs after Pizza Eve.
Characters Appearance
Major Characters
Minor Characters
Plot
At the 224th annual Grampies Award Ceremony, all Cartoon Network characters participate for their chance to win a Grampie only to find out it was rigged for Uncle Grandpa to win everytime.
Trivia
In the epilogue "The Grampies", Uncle Grandpa hosts an award show, featuring cameos from other Cartoon Network shows such as Dexter's Laboratory, Johnny Bravo, The Powerpuff Girls, Samurai Jack, The Grim Adventures of Billy and Mandy, Foster's Home for Imaginary Friends, Adventure Time, Regular Show, Ben 10, The Amazing World of Gumball, The Looney Tunes Show, Steven Universe, Teen Titans GO!, and Clarence. Including speaking parts from Natalie Palamides, John DiMaggio, Jeff Bergman, Zach Callison, Tara Strong, and Roger Craig Smith reprising their roles as Buttercup, Jake, Bugs Bunny, Steven Universe, Raven, and Belson Noles, respectively.
Sumo Sumouski from Clarence is shown with eyelashes, although he doesn't have visible eyelashes in his home series.

Something similar goes to Gumball Watterson from The Amazing World of Gumball, as he is in his season 2 design in this short, though in the show, his design is updated.

Uncle Grandpa winning all the time is an obvious middle finger to Nickelodeon for having SpongeBob win Favourite Cartoon every year.
Although there was a vast array of Cartoon Network characters that participated, not all of the major characters from all the shows on Cartoon Network were featured.
Gallery