Tiger Talk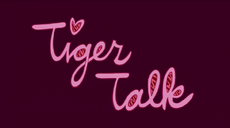 Tiger Talk is a short that appears after the episodes "Space Emperor", "Mystery Noise" and "Vacation".
The short where Giant Realistic Flying Tiger interviews characters from the show. Belly Bag served as a announcer of the short.
Character Appearances
Major Characters
Minor Characters
Plot for after "Space Emperor" (Interview with Mr. Gus)
The short is about GRFT asking Mr. Gus some questions. All that is known about the questions is that one of them is GRFT asking Mr. Gus what is his favorite food. Mr. Gus replies toast and the short ends right there.
Plot for after "Mystery Noise" (Roommate Problems)
The second short of Tiger Talk begins with GRFT interviewing Mr. Gus and Pizza Steve about roommate problems. Mr. Gus is upset about Pizza Steve not cleaning up after himself. Pizza Steve denies the claims. Tiger decides to run a DNA test on a peanut butter knife Pizza Steve left out. Uncle Grandpa comes out to read the results, but confesses he has no idea how to read the paper he was given. Pizza Steve swiftly takes it and pretends to read it. Despite it having a picture of himself as the culprit, he announces the person who didn't clean up his mess was actually Mr. Gus himself. A drill sergeant comes and takes Mr. Gus away to boot camp and the short ends.
Plot for after "Vacation" (Cooking with Frankenstein)
Frankenstein shows the audience what he will be working with, he grabs a roasted chicken and shoves his hand in it smashing the table, Frankenstein tries to scrape the chicken off his hand, he then puts seven fish heads into the bowl along with some band aids, He puts Pizza Steve in the bowl and Pizza Steve says that's not cool, Frankenstein fills the bowl with water using a hose, then he uses a skeleton to heat up the food. Frankenstein then stirs the food with a hammer violently until the hammer dissolves. Then Uncle Grandpa come for the taste test, Frankenstein puts his hand in the bowl and drags the bowl across the table, Uncle Grandpa tastes it and Frankenstein gets worried, and Uncle Grandpa said "neah" and Frankenstein got mad and went on a full rampage and the short ends.
Trivia
In the scene when the DNA test is being performed, Mr. Gus looks at Pizza Steve. His eyes turn white instead of yellow in this scene.
When the General is yelling at Mr. Gus he is wearing a bow tie.
Gallery
After "Space Emperor" (Interview with Mr. Gus)
After "Mystery Noise" (Roommate Problems)
After "Vacation" (Cooking with Frankenstein)
Art
Roommate Problems Storyboard
Community content is available under
CC-BY-SA
unless otherwise noted.