UG Rap Attack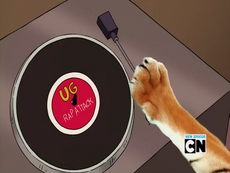 UG Rap Attack is a short that appeared after Perfect Kid". It was sung and rapped by Uncle Grandpa, Belly Bag, Pizza Steve and Mr. Gus and Giant Realistic Flying Tiger.
Character Appearances
Major Characters
Lyrics
          
Uncle Grandpa: That's a pretty cool beat, Tiger.
Yo! It's Uncle Grandpa,
Pizza Steve: and Pizza Steve,
Mr. Gus: Mr. Gus,
Belly Bag: Belly Bag, Yo, you best believe.
Uncle Grandpa: We come to bring the heat,
while we pop lock,
hotter than your favorite hot sauce!
Pizza Steve: Yo, it's Pizza Steve!
A.K.A., P.S.
When I'm on the mic, I be fresh.
Straight from the oven,
hate it or love it,
my cheese is thick and my crust is rugged.
Uncle Grandpa: Good mornin'!
It's your Uncle Grandpa.
I can rap on the mic, with my pants off!
I got a sick ride, it's called the RV.
Where's the mustard for my hot dog party?
I like to help kids by using my magic!
Hey,wait a second!
Check out this hat trick!
That makes me fly!
I'm a cool guy!
I like sour cream on my blueberry pie!
Now I'm almost done with my rhyming',
so stick around for my book signin'.
Belly Bag: It's your favorite friend, Belly Bag!
I got loads of fun from toys to smelly rags.
But my favorite thing is making mouth noises,
so listen to me with me and my boys'es.
Mr. Gus: Yo, it's Mr. Gus, call me big G! 
I put words together in-tri-cate-ly.
You can't mess with this dino flow,
pay close attention or my rhymes'll go
over your head like a helicopter.
Tell your doctor, to quell the opera, of pain,
that you will experience if you step to Gus.
Cause Gus will get furious!
Still waters run deep and I'm the deepest.
Profound sound better than the weakest!
Big G crushes foes who deserve the meat fist.
But I'm chill M to F and on the weekends.
So as I end this verse let me just say that
Big G and crew get the party underway.
Wait, hold up, who wants join the cypher?
It's Giant Realistic Flying Tiger!

Gallery
Short
Community content is available under
CC-BY-SA
unless otherwise noted.